Product Description
Type a description for this pr





A Jebao pump WPG2000.




Two nozzle kits, one makes trumpet water fountain, one makes three tier water fountain.



Fountain in the picture, water shooting is 9' tall, about 7' wide in a 3 tier shape.
Using two different nozzle kits, you can get a trumpet water fountain or a traditional three tier water fountain.
What you need is a floater with ring light, a pump and couple nozzles: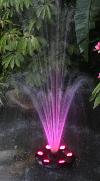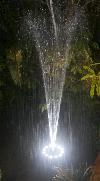 Product here...
Product Videos
Custom Field
Product Reviews